Back in February, I shared my little
disc bound coupon book
that I came up with. I really do love these notebooks and I've been frustrated with my Copic swatch book for some time now. I haven't been creating much lately (wallpaper removal was kicking my butt!!) but I still wanted to color, so I decided it was the perfect time to redo my swatch book.
I stopped at Staples to grab some discs to create a new book, but when I got there, I found this notebook with a clear hard cover and interchangeable cover designs.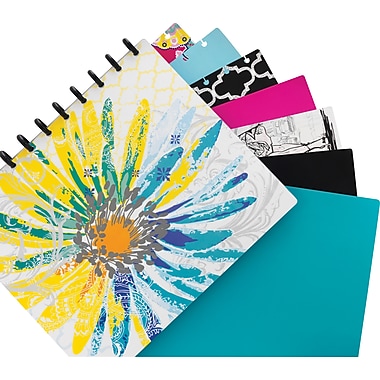 Originally, I thought I'd use some decorated chipboard, but this worked even better! I decided to make my own little cover and display it through the clear plastic. I wasn't sure what to do with the covers it came with, but figured they'd be usable...eventually ;)
The first thing I did was pull things out of my old book. I was using a portfolio that I grabbed at Michael's and realized I wasn't really using it since it was a nuisance to pull the pages in and out any time I wanted to add a swatch. With the disc notebook, the pages are easily accessible and the extra pages easily fold back out of the way. When I went to add my Copic color chart to the book, I noticed when I would punch the holes it would cut off the top row of colors so I headed back to the Copic website and printed a new one - I adjusted my print settings so there would be a little bit of a margin to allow for the hole punching.
I added wash tape to the edge to reinforce the hole punching.
I had been using some circles that I printed from my computer for color combos, but wasn't 100% happy with them, so I did a search and found this great
combo chart
. I printed out a bunch of them, added some washi tape, punch the holes and started filling them in.
The rest of the items I already had in my swatch book were for people coloring - eyes, skin, hair combos. I kept these same pages, adding a strip of washi to each one, then adding them to my book.
Free blank eye chart can be found here
I have my book organized into four sections (using the included covers as divider pages :))-
1. color chart and tools. I have some transparent light source guides that I put in a zipper pocket.
Free downloads of the guides can be found here
2. the color combo charts.
3. the eye, hair, and skin combo charts.
4. I left some of the lined paper that came with the notebook to make notes and scribble drawings as needed.
To finish the whole thing off, I needed a cover! I had purchased the
Copica
image from Saturated Canary when it first came out and kind of forgot about her.... until I was sifting through digi stamps to find one for my cover!! I resized her to take up most of the page and added some outlined letters. And then the fun began..... COLORING!! I'm in
love
with this color combo that I ended up using on her. Here's the full cover:
And here's a close up of Copica:
So now I'm happy with my swatch book and I have no excuse to not keep it current!
This weeks challenge at MarkerPop is
Anything Goes
so I'm playing along with the challenge:
Thanks for stopping by,
Angie